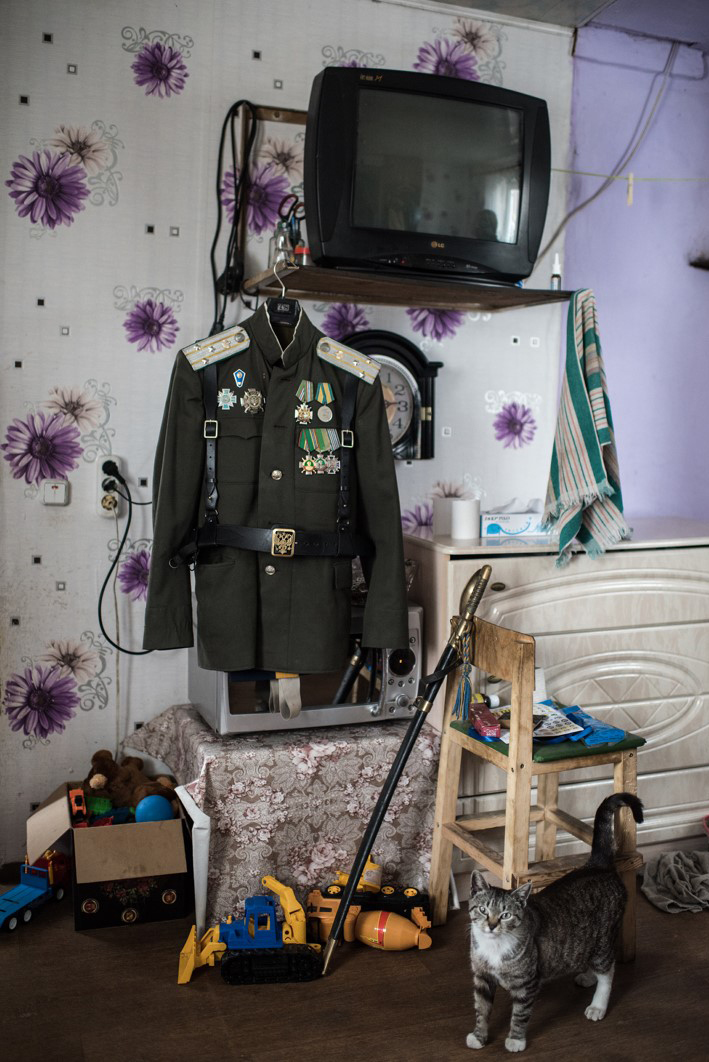 1-8 АПРЕЛЯ / МАСТЕРСКАЯ АРТ-РЕЗИДЕНЦИИ (ЦРМ, 5 ВХОД)
Алина Десятниченко уже более года занимается темой современного казачества, и во время резиденции во Владивостоке она сосредоточилась на изучении жизни и культуры представителей Уссурийского казачьего войска. Если в случае с Краснодарским краем казаки – одна из главных опор локальной идентичности, то о том, как живут и чем занимаются они в Приморье, знают, пожалуй, немногие.
В ходе исследования фотограф посещала казачьи общины и поселения, участвовала в сборах, парадах, репетициях торжественных мероприятий, фиксируя происходящее на камеру. Помимо фотографий, посетители смогут ознакомиться с записями интервью с представителями организаций, объединенных общим вопросом: «Что означает быть настоящим казаком?» Выставка предлагает один из возможных образов казачества сегодня, отражающий, с одной стороны, каким оно хочет себя представить, и, с другой стороны, каким восприняла его автор проекта.
Однако серия «Я – казак» является не только исследованием в области визуальной антропологии, но и результатом профессиональной рефлексии документального фотографа. Кто наделяет его правом на отображение реальности, которая впоследствии будет считаться объективной? Портрет сообщества в фоторепортаже – не только результат отбора того, что именно его герои позволили увидеть и запечатлеть, но и всегда личный взгляд автора, отражение его мнения и вкусов, личная интерпретация, на основе которой рождается интерпретация зрительская. Этический вопрос о неизбежной субъективности и относительности задокументированного фотографом также встает перед Алиной Десятниченко, и она адресует его в первую очередь себе.
Справка: Алина Десятниченко (1991 г.р.) — документальный фотограф из Краснодара.
Закончила школу современной фотографии «ДокДокДок» Михаила Доможилова, а также курс «Искусство быстрого реагирования» в самопровозглашенном Краснодарском Институте Современного Искусства арт-группировки ЗИП. В данный момент завершает обучение на журфаке КубГУ.
Ее работы принимали участие в групповых выставках в Краснодаре, Воронеже, Екатеринбурге и Тверской области. В 2017 году в рамках арт-резиденции музея Дом Метенкова открыла персональную выставку «Дверь в стене» в Екатеринбурге. В 2017 и 2016 снимки Алины также были отмечены жюри конкурсов «Неслучайный свидетель» в категории «Правозащитники» и «PhotogrVphy Grant» в категории «People».
Алина сотрудничала с такими изданиями, как The Calvert Journal, Афиша Daily, Bird In Flight, Такие дела, Медиазона, Секрет фирмы, РБК, Ведомости, Russia Beyond The Headlines, Заповедник, Seasons, Нож, GEO, Dekoder и другими.
ВХОД СВОБОДНЫЙ